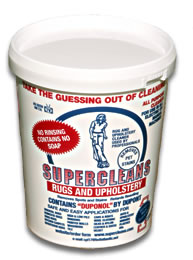 Make all these cleaners with SUPERCLEANS®:
Simply mix your SUPERCLEANS powder with water to
make any cleaner you need
. Cleans with no sticky residues. Supercleans is non-toxic, biodegradable, safe for septic systems.
Contains No Soap
No Bleaches of any kind
Safe for all colorfast material
No Rinsing.

Buy SUPERCLEANS to tackle even the worst spots and stains- works where others fail. Guaranteed to remove pet stains, grease, oil, mildew, colas, coffee, and tea.
SUPERCLEANS gets out stains even when they have been there for years. SUPERCLEANS is a dry foam cleaner, safe to use on colorfast oriental rugs, indoor outdoor carpet, and all types of carpet. Pet stains and odors are eliminated from carpets and furniture. Pet stain removal is fast and easy with no soap residue to track back the stains.
Buy SUPERCLEANS
Check out more on how to use SUPERCLEANS in the
videos section
.